All the basses I build are custom instruments with various wood combinations and hardware options. I think it is really exciting when my customers approach me with a dream bass and ask me to build it for them. In the process, we decide on hardware, wood selection, and so on. As a consequence, the price of the bass will be highly dependent on the options selected.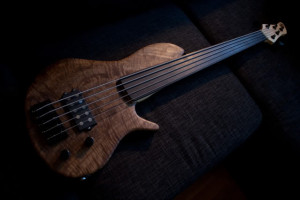 The base prices for Clement basses are:
4-string: $1600
5-string: $1850
6-string: $2050
The basic specifications included at this price are:
Mahogany or Basswood (two-piece one of the standard body shapes as shown on this page)
4 string One-piece bolt-on hard maple neck more than 4 string 3 piece Maple is standard
Fretless un-lined Pau Ferro or Mesquite fingerboard
Two Bartolini pickups or Nordstrand Big Singles, Big Split, fat stack or Jazz pickups
Passive electronics (volume/volume/tone or volume/balance/tone)
Hipshot Ultralight tuners
Hipshot Type A bridge
Finish: Satin polyurethane finish on Spanish cedar and similar, oil finish on Mahogany, Swamp Ash, Black Limba, Walnut and similar.
Dunlop strap lock system
Depending on other options (or simplifications) the quote for your custom bass may differ from the base price listed above. Please look below for a list of available options. The list is not complete, so if you have other options you'd like for your bass, please contact me!
Additional options
Body
Swamp ash body + $100
Black Limba starting at $150
Other exotic body materials price depending on availability
Chambered body starting at +$200
Laminated top (polyurethane satin finish included with soft tops like spalted maple, Redwood and Spruce)
Book matched Black Limba tops starting at $75
Book matched Myrtlewood tops starting at $150
Redwood top $200 +
Spalted Maple tops starting at $250
Accent veneer under top +$35
Matching back varied price
Accent veneer under back +$35
Other body options
Inset Dunlop strap locks +$20
String through body + $50
Satin Poly-urethane finish on body +$100
Headless basses + $300
Neck
* 1 piece Maple Standard on 4 strings. 3 piece Maple on all others.
Laminated 1/4 sawn Port Orford Cedar and Hard Maple + $150…. Very light very stiff
5-piece laminated neck (depending on availability of wood) starting at +$100
Wenge and Hard Maple are available as stringers for necks.
NO Angled headstocks or "matching head plates"
Fingerboard
Ebony + $100
Figured Maple + $100
Other fingerboard materials depend on availability See what I have listed in the gallery
Fretted fingerboard

4-string +$100
5-string +$125
6-string +$150
Stainless frets (add to fretting price) +$125
Fretted Dymondwood add $75

Lined fretless

4-string +$50
5-string +$75
6-string +$100
Electronics
One pickup only

4-string -$50
5-string -$75
6-string -$100

Nordstrand, Audere or Bartolini Active System (including 9V battery box) starting at +$200
Piezo bridge (Hipshot Type A bridge w/Ghostec piezo saddles and Bartolini piezo buffer) starting at +$300
– Protec Contego Pro Case +$150
The small ink
All the prices on this page are subject to change. Please contact me for a custom quote on your bass. All quotes are valid for 1 month from the day of reception of the offer. Just as every bass player is unique, the instrument of their desires will also be unique. I'll be happy to work with you on fulfilling your bass desires. So please get in touch with me and let me know what the bass of your dreams looks like. Please look over the basses I have done and try and give me as much information as you can so I will be able to get you a more acurate price quote. Looking forward to hearing from you!