Stein Olav Pedersen – Session player in demand and jazz musician at top of Europe!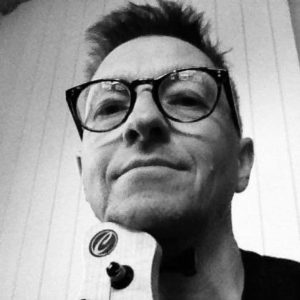 Tell us about your career!
I studied classical guitar at the University of Tromsø, and my plan was to become a guitar player and teacher. However, my career took a different path, and I picked up the bass and have played mostly jazz music. I have played in varioius bands with Norwegian artists such as Jan Gunnar Hoff and Ernst Wiggo Sandbakk. I have also been a session player and played a lot of national TV and radio shows, theater and scene shows. I currently hold down the low end in the Norwegian band Pentatomics.
How did you end up as a bass player?
As many other bass players, I discovered Jaco Pastorius and had the pleasure of attending a concert he performed in Oslo, Norway. After that experience, I swapped from the guitar to the electric bass. In addition to Jaco, Stanley Clarke and Jimmy Haslip were inspirations for me.
It is hard to make a living from being a full-time musician in Norway, so I have had various "straight jobs" to make money to afford to keep up my musical career. In addition, I have also been a bass teacher.
What do you feel is the most important quality you need to succeed as a performing musician?
Patience, a good ear and good time in addition to excellent skills on your instrument!
Tell us a little about your current band and projects!
Pentatomics is a band consisting of both young players and older estalished musicians. It is a newly started groovy jazz band, and we have been fortunate enough to get our first record "This is not a drill" released on Reflectl Records. We are very happy with our first record, and we have gotten some great reviews!
Do you compose music yourself? What do you think the bassist's most important contribution to the band is?
Yes, I both compose and arrange music myself. The bass player has both a tonal and rythmical task, and we have the opportunity and privelige to color the sound of the band! And maybe the biggest contribution is good time!
Can you tell us about your gear?
I play a Clement Ryan 5-string fretted and a Clement Jon 5-string fretless bass. I have earlier played various Jazz basses, but they have mostly been retired now. All my basses are strung with Fodera strings.
I use a TC Electronics combo and a vintage Polytone for those portable gigs, and sometimes add a TC chorus/flanger from the 80s and an MXR octave pedal .
For practice sessions I often use a Roland looper.
Tell us a little about your visions when you specified your Clement basses!
With my roots in classical guitar, I wanted a bass where I could utilize my guitar technique. The solution was to have Tom build me a 5-string 33″ scale length fretted bass with 17mm string spacing tuned E-C. In addition I wanted a bass ramp between the two Nordstrand dual coils. I also wanted an ebony fingerboard for that deep tone. I wanted an alder body, as many of the classical Fenders are made from. I went for the smallest singlecut body shape Tom offers, the "Ryan". It works perfectly for my floating thumb technique.
After the success with the Ryan and after reading much praise about Tom's fretless basses, I got tempted to swap out my Fender Victor Bailey fretless with one of Tom's 5-string fretless basses. I chose a 34″ scale length this time to allow the bass to sing in all registers, and went with the more standard B-G tuning. This bass has a dymondwood fingerboard, which works better than the epoxied rosewood that I've been used to. I selected the Jon body shape and swamp ash for the body wood, and a single Bartolini pickup with matching preamp. I use a bass ramp on my basses and had Tom make me a large one with the same radius as the fingerboard so it feels like an extension of the neck onto the body. This bass, which is #308, is set up with extremely low action. I've had quite a few fretless basses, but this bass sings better than all of them, and it's extremely comfortable to play.
Did the basses live up to your expectations?
Absolutely! My Clement basses are fantastic instruments! I can do stuff on these basses that I have never been able to do on other basses, such as chording and advanced right-hand techniques. In my humble opinion, Tom has built the ultimate basses for me!