Order Process
After looking over the website and price list contact me via e-mail to discuss your custom bass guitar. Once we figure out the details I will generate a custom quote with a list of specs and features. The price and time frame are good for 30 days.
Terms of Sale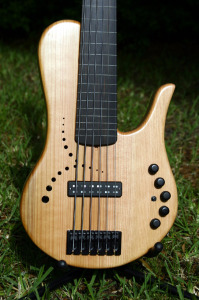 A 40% deposit is required to reserve your spot in the build schedule. Once your deposit has been received I will order any specialty woods or parts needed for your instrument. Full payment is due within 30 days upon completion of your instrument prior to shipping. I accept PayPal, money orders and wire transfers. Funds must clear before they are credited toward your order. Customer pays wire transfer fees. Orders within Florida will have 7% sales tax added to the total.
Quality Assurance Policy
Before the bass is shipped to you, Tom Clement Basses will go through and perform a thorough quality assurance of your instrument. As a part of this process, the right to test the bass in a working environment by experienced players is reserved. The bass will be safely brought to the venue by Tom Clement Basses, and will only be used for a limited section of the gig. Tom Clement Basses reserves this right to make sure that the instrument performs as desired and expected. Tom Clement Basses guarantees that no damage or wear will occur to the instrument as a consequence of the QA procedure.
Cancellation Policy
Should you decide to cancel your order your deposit is refundable minus a $300 order work up fee until I start building your instrument. Once the build has started your deposit is not refundable.
Warranty
All instruments include a limited five year warranty to the original owner against defects in materials and workmanship. The warranty does not cover damage due to neglect, misuse or normal wear and tear as defined by Clement Basses. Application of the warranty is solely determined by Tom Clement Basses.
Important Notice About Warranty
Please be sure to fully seat the truss rod wrench into the socket when adjusting the truss rod. Damaged truss rod sockets will NOT be covered under warranty and will require replacing the neck at the customers cost including shipping!