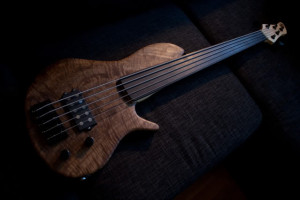 All the basses I build are fully built by hand, no CNC machines are involved in the process. Each one is a custom instrument with wood combinations and hardware options specified by the future owner. I think it is really exciting when my customers approach me with a dream bass and ask me to build it for them. In the process, we decide on hardware, wood selection, and so on. As a consequence, the price of the bass will be highly dependent on the options selected.
Please, e-mail me for a price quote for the instrument of your dreams!
Read on for more about available options and possibilities!
No two Clement basses are usually identical. They are all completely custom orders for their future players. Over the years, numerous wood combinations and exotic species have passed through my workshop.
All of my basses feature a bolt-on neck with a deep neck pocket that allows for easy access to all frets. The body shapes I have developed are focused on player comfort, my Singlecut and Ergo families of body shapes all focus on left hand ergonomics and player comfort. The Modern and Classic families feature more traditional ergonomics but still good upper registry access. Check out the available body shapes!
Below is a list of some of the options that are available to you if you decide to build a Clement bass. Some options are of course subject to availability!
Hardware and electronics
The list below are my preferred electronics and hardware options, but as always, anything goes!
Electronics:

Bartolini pickups & preamps
Nordstrand pickups & preamps
Ghostec piezo saddles (for Hipshot Type A bridges)
Audere preamps

Hardware

Hipshot Ultralight Tuners
Hipshot Type A bridge
Hipshot headless system (bridge w/tuners & headpiece)

Dunlop strap lock system (hidden inserts or dual)
Protec Contego Pro Case
Body and top woods
I have several available body shapes with various ergonomic and visual features. Clement basses can be built either as solid-body basses or with various degree of chambering, from "swiss cheese" to semi-hollow with sound holes of various designs. There are also many available options for body woods.
Some of the woods I am commonly using are:
Swamp ash
Black Limba
Mahogany
Other exotic body wood depending on availability
Chambering
Adding a top wood adds an exciting visual appearance as well as sometimes having a significant impact on the sound. For chambered instruments, adding a thin and light-weight top wood can bring the instrument to life! On a solid-body, mixing a bright body wood with a slightly mellower top wood can add more body to the tone, or vice versa! There are numerous options available for top woods, subject to availability. Accent lines, bookmatched or one-piece tops, and matching backsides are all possible. Finish will be chosen based on the selected woods, either an oil finish or a satin polyurethane finish. On rare occasions I have also used a high gloss poly finishes can be arranged by local vendor, price is depending on the shop's current price list!
Some of the woods I am commonly using are:
Black Limba
Myrtlewood
Redwood
Walnut
Maple (spalted, quilted or flame)
Spruce
Cedar
Other exotic top woods subject to availability
Accent veneer
Neck and fingerboard
All Clement basses features a bolt-on neck with a dual action trussrod. One-piece necks are available for 4-string necks, otherwise I prefer to use a 3- or 5-layer neck design with stringers to increase stability. Clement basses are available as both fretted and fretless, and are known for their smooth and fast action. I only use thick fingerboards that has a lot of life in them, and that adds significant stability to the neck. The flat headstock is double strengthened by a smoothly sloped fingerboard extending past the volute of the headstock, with an inset nut. Optional string trees ensure good and stable pressure of the accurately cut nut.
Some of the woods I am commonly using for necks are:
Neck woods

Port Orford Cedar
Hard maple
Various hardwood for neck stringers, including wenge, maple, bloodwood, and more (subject to availability)

Fingerboard

Ebony
Maple
Bloodwood
Other fingerboard materials subject to availability
Fretted
Lined fretless
Contact me by e-mail to discuss your needs and get a price quote for your bass!
The small ink
Woods and options listed below are all subject to availability! Please contact me for a available options and for a custom quote on your bass. All quotes are valid for 1 month from the day of reception of the offer. Just as every bass player is unique, the instrument of their desires will also be unique. I'll be happy to work with you on fulfilling your bass desires. So please get in touch with me and let me know what the bass of your dreams looks like. Please look over the basses I have done and try and give me as much information as you can so I will be able to get you a more acurate price quote. Looking forward to hearing from you!