My Basses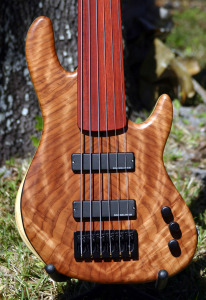 Tom Clement Basses are truly custom and are built to my customer's specifications, using top quality woods, electronics and workmanship. When you play one of my custom basses, it is my wish that you feel as good as I did when I built it! All my basses are built by hand in my workshop in Florida. I love creating basses using the finest woods and material and shaping it into a beautiful instrument. 
A Tom Clement Custom Bass is your way of getting the bass of your dreams!
Click to read more about my basses....
Instruments in stock
For sale: Clement Jon Fretless 6-string #523 (B-stock)
This Clement Jon 6-string fretless is now ready for shipping! List price is $3075, selling as a B-stock at $2650.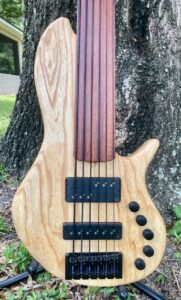 This is my "Tundra" recipe, with a swamp ash body, a five piece maple and bloodwood neck, and a bloodwood fingerboard with Luminlay position markers that will glow in the dark. The bass features a rather tight but comfortable string-to-string width at the bridge of 16.5mm! It features Nordstrand pickups, with a custom made hybrid soapbar/P neck pickup made exclusively for this bass! Very rare! The bridge pickup is a Nordstrand Big Split. The bass also features a 9 Volt Bartolini three-band preamp under the hood. Bridge, tuners and knobs are Hipshot. This beautiful and awesome sounding 6-string fretless is for sale at a discount as a B-stock instrument due to some minor cosmetic imperfections. Most notably, the bridge is slightly off centre. However, in spite of this, the bass sounds and plays great with low string action! Will ship in a Protec gig bag for an additional $150.
(more…)
Read More
Sold: Clement Kim #438 6-string
I have just finished this beautiful 6-string Clement Kim bass #438 and it is available for immediate delivery. The bass weighs in at 9.8lbs, and features a three piece body with swamp ash center block and limba wings, with a gorgeous figured myrtlewood top. The neck is a 5-piece, with maple as the main wood and thick wenge stringers for stability. The fingerboard is macassar ebonyThe electronics are Bartiolini pickups and preamp. Hipshot bridge and tuners.
(more…)
Read More