Ray Salyer – Session musician and touring bassist with John Michael Montgomery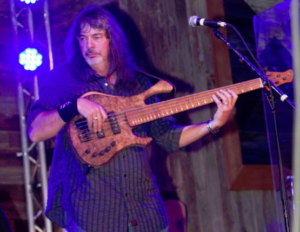 Tell us about your career!
When I started learning this great instrument and eventually got better at playing it, I set goals for myself.
The first was to become a session bassist. In 1985 I started doing session work and still do to this day.
The second was to be a studio engineer. So as I was an employee at a retail music store, I ran the owners studio for about 4 years. From 1991-2002 I played bass for Billie Jeans Osborne's Kentucky Opry which is a family oriented variety show like you would see at Myrtle Beach and Branson, MO.
The third goal was to become a touring bassist for a national act. In 2002-2009 I played bass for the band Exile who had the 1978 hit " Kiss you all over " and had 10 number one country hits in the mid 80's.
In 2011 to present I have been playing bass for John Michael Montgomery who, in the 90's,  has had 7 number one country hits and 26 top 40 hits.How did you end up as a bass player?
My parents sang in a gospel quartet and my dad ask me if they got a bass, would I learn how to play it for the quartet. I said " sure! ". In 1977 my great grandmother bought me a bass and my dad started teaching me. As I got better, I would grab any cassette or album we had and start listening and copying the bass parts. Then I started buying my own albums, so I was listening to everything from gospel and bluegrass to top 40, rock, funk, metal and jazz and I would learn the bass parts. I had the best bass teachers you could think of, which was just about all of them.
What do you feel is the most important quality you need to succeed as a performing musician?
Number 1 for me is that you need to be able to get along with your band mates. If you are a butt, nobody will want you around. I'm sure a lot of people know what I'm talking about.
Number 2, play what the song is calling for and then lock it in with the drummer. Nothing worse then to hear a good band and the bass player playing everything he knows in every song and playing it loose.
Tell us a little about your current band and projects!
I'm playing bass for John Michael Montgomery right now. There is a side project which is called Bo Garrett and Black Dawg Project. It's taking a while for this one because you have four musicians that work with four different artist with four different touring schedules. We will eventually get it finished.
Do you compose music yourself? What do you think the bassist's most important contribution to the band is?
I'm not much on composing. As far as the bassist's most important contribution, that would be to lay down a solid foundation with the drummer. You can't build a house with a loose foundation. It will eventually fall down. Plus, the bass is probably the most important instrument on the stage. It has the timing, rhythm, chord structure and some times , the melody. The thing is to put it all in it's respected place.
Can you tell us about your gear?
With John Michael, we don't have any amps on stage. It's all direct except for the drums. I use a Sans Amp RBI pre with a tuner and an AKG wireless. I do have Eden and Genz-Benz gear around when I need it.
How did you find out about Tom's work?
I found out about Tom through a man I never met. John Michael's drummer , Marty Dillingham, whose son, Ryan who is also a drummer played with a band and the bassist was Chuck Jones. Marty went to listen to the band and he told me how awesome the tone was coming from Chuck's bass. I contacted Tom shortly after that. I would have liked to have met Chuck.
Tell us a little about your visions when you specified your Clement basses!
Well, I wanted a well rounded bass so I could play all types of music using it.. Tom came up with a plan and he took it from there. After all the wood had been selected and all the questions were asked by Tom, that I had no idea how to answer – LOL! – he shaped and formed this masterpiece. It was most definitely a great experience going through the building process with Tom. He informs you of everything he does during the process. He makes you feel like you are right there with him as he's working on your instrument. AWESOME!!
Has the bass lived up to your expectations?
See also: Ray reviews his Clement Phoenix bass!
Oh yeah! It plays and sounds great. Engineers has complimented the tone and it sure has turned some heads when people see it. Just a beautiful work of art. #351, Clement Phoenix bass "The Possum"  is an awesome one of a kind!
And if you are wondering why I named the bass  "The Possum " Here's why.  When Tom put the oil finish on the Myrtle wood top, an opossum's face was formed by the natural wood grain. Thus  "The Possum ".
Thanks for everything Tom, You are the best, man!