Clement #401 Kim 5-string bass is currently for sale at Bass Central in Orlando. SOLD
Check out this bass at Bass Central web store!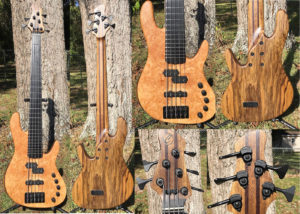 The Kim features 19 mm string spacing, 34 inch scale length. The body is made from black limba with a beautiful maple burl top. The neck is also black limba, and features a 24 fret ebony fingerboard.
The electronics are Nordstrand PJ pickups, witha Nordstrand 3B-5A preamp. This bass weighs in at 8.8 Lbs.