Thad Stevens – fuelling Immortal Guardian and Descendants of Erdrick
Tell us about your career!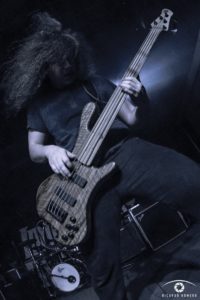 I performed in jazz contexts through high school and college, but my career proper started with joining progressive metal band Ethereal Architect in late 2011 and recording on their second album, Monolith. Since then I've had opportunities to play with a bunch of talented musicians and have a lot of fun experiences. But I'm just getting started! I'm currently performing with Immortal Guardian and Descendants of Erdrick.

How did you end up as a bass player?
More or less by accident. I had been in middle school band for a few years as a diversion and then quit. By the end of that year a family friend offered to sell my parents a bass, so they asked if I'd want to try learning it. At first it was also just a diversion, but I had some fantastic teachers and band leaders, and I can point to pretty specific bands and songs along the way: Alice in Chains got me into music, Iron Maiden got me into bass, Pink Floyd got me into fretless, and Death into playing fretless in a metal context. As I continued learning, I drew a lot of inspiration from Doug Keyser, Geddy Lee, and Lars Norberg. They inform my style the most, but my other influences are too numerous and disparate to list!
What do you feel is the most important quality you need to succeed as a performing musician?
Confidence. On both the musical and business sides, if you don't take yourself seriously, no one else will either. But also it certainly doesn't hurt to practice, so that you know you're prepared to prove yourself when the time comes!
Do you compose music yourself? What do you think the bassist's most important contribution to the band is?
I do compose and arrange music myself. This year will mark the first time any of it is to be published. I'm still pretty new at it: in terms of part-writing, I've found it very different to come at it from that perspective as opposed to writing bass parts to pre-existing songs. However, the role of the bass doesn't change. It's the sonic and harmonic center of the piece. It's most important to act as bridge between the rhythm of the drums and the tones of the other instruments. As long as you're operating within those parameters, and as long as it's in service of the particular song, you can then start thinking of pushing the boundaries of those roles!
Can you tell us about your gear?
I have two Clement basses, both fretless Wide Joans, one five and one six string. Both are strung with DR Sunbeams (nickel roundwounds). I mix and match as the gig calls for, but I'm usually running my Genz-Benz Shuttle 6.0 or ShuttleMAX 6.0 through one or two of my four Genz-Benz cabs. I also use a Korg Pitchblack Pro tuner, Line6 wireless, Sennheiser microphone, and Westone in-ear monitors.
How did you find out about Tom's work?
Word of mouth: first, it was recommended I check out Ed Friedland's review of one of Tom's basses. I started following the Facebook page: I was impressed with the frequent updates showing every step of the process on a variety of builds. Then it was just a matter of time! It was #169 that compelled me to finally pull the trigger and order one for myself!
Tell us a little about your visions when you specified your Clement basses!
I was coming off of playing a mahogany Ibanez BTB with rosewood fingerboard. For jazz contexts it performed very well, but it was a bit too mellow for metal. Not to mention huge and heavy! So I wanted an ebony fingerboard for a brighter edge to the tone. The black and white ebony struck the perfect balance between tone and aesthetics! A swamp ash body kept the bass light, and Bartolini pickups and preamp ensured versatility.
For my six string, there was not a lot to fix: why mess with a winning formula? But with a few refinements, namely different pickups set closer to the bridge and a fast black limba/wenge neck, it might just sound and play even better!
Have the basses lived up to your expectations?
Absolutely! They're extremely playable, versatile, and lightweight. I can play just about anything with them, and they look killer too! I field questions about them at just about every show I play: after the compliments on the tone and the aesthetics, and the inevitable question on its origin, I'm always proud to respond, "It's a Clement bass!"
Visit Imortal Guardian and Descendants of Erdrick on the Internet!
Thad Stevens plays these two Clement basses (#342 and #279)