This Clement Jon 6-string fretless is now ready for shipping! List price is $3075, selling as a B-stock at $2650.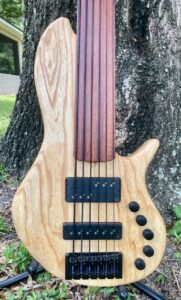 This is my "Tundra" recipe, with a swamp ash body, a five piece maple and bloodwood neck, and a bloodwood fingerboard with Luminlay position markers that will glow in the dark. The bass features a rather tight but comfortable string-to-string width at the bridge of 16.5mm! It features Nordstrand pickups, with a custom made hybrid soapbar/P neck pickup made exclusively for this bass! Very rare! The bridge pickup is a Nordstrand Big Split. The bass also features a 9 Volt Bartolini three-band preamp under the hood. Bridge, tuners and knobs are Hipshot.
This beautiful and awesome sounding 6-string fretless is for sale at a discount as a B-stock instrument due to some minor cosmetic imperfections. Most notably, the bridge is slightly off centre. However, in spite of this, the bass sounds and plays great with low string action! Will ship in a Protec gig bag for an additional $150.